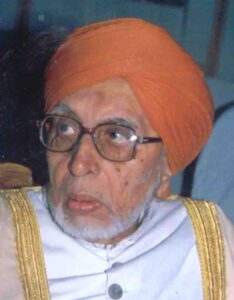 Janab Syed Shah Muhammad Al Hussaini Saheb
Founder President (1922-2007)
Simplicity is the hallmark of greatness and Janab Syed Shah Muhammad Al Hussaini was an epitome of simplicity and modesty. The Khaja Education Society today stands as a testimony to the greatness of this individual who worked with a single minded dedication to uplift the backward minority of Gulbarga. He ranked among those who took pains to tackle the ills of the society that they see around them. Janab Syed Shah Muhammad Al Hussaini decided to redress the evil of backwardness by establishing educational institutions in a region where none existed before. With a judicious far-sightedness he began by establishing a girls school first in 1958 from where he never looked back. A host of schools and colleges followed with the distinctive factor that they provided education at the minimum basic cost. Janab Syed Shah Muhammad Al Hussaini founded the society with a selfless motive and till today it continues to be a service oriented organisation, true to the vision of the founder President.
From its simple begining in 1958, the Khaja Education Society today has more than 15 institutions running under its umbrella. Each institution began with care and affection and in response to the needs of the people of this region.
Soft spoken and of a mild demeanour, Janab Syed Shah Muhammad Al Hussaini will stand always as an ideal for the young generation as to how selfless aspirations lead one on to the path of success and greatness. He was awarded the Padmashree for his services to his countrymen and the Nation.